Ninth and Largest M.D./M.P.H. Class Begins Journey at Freshman Orientation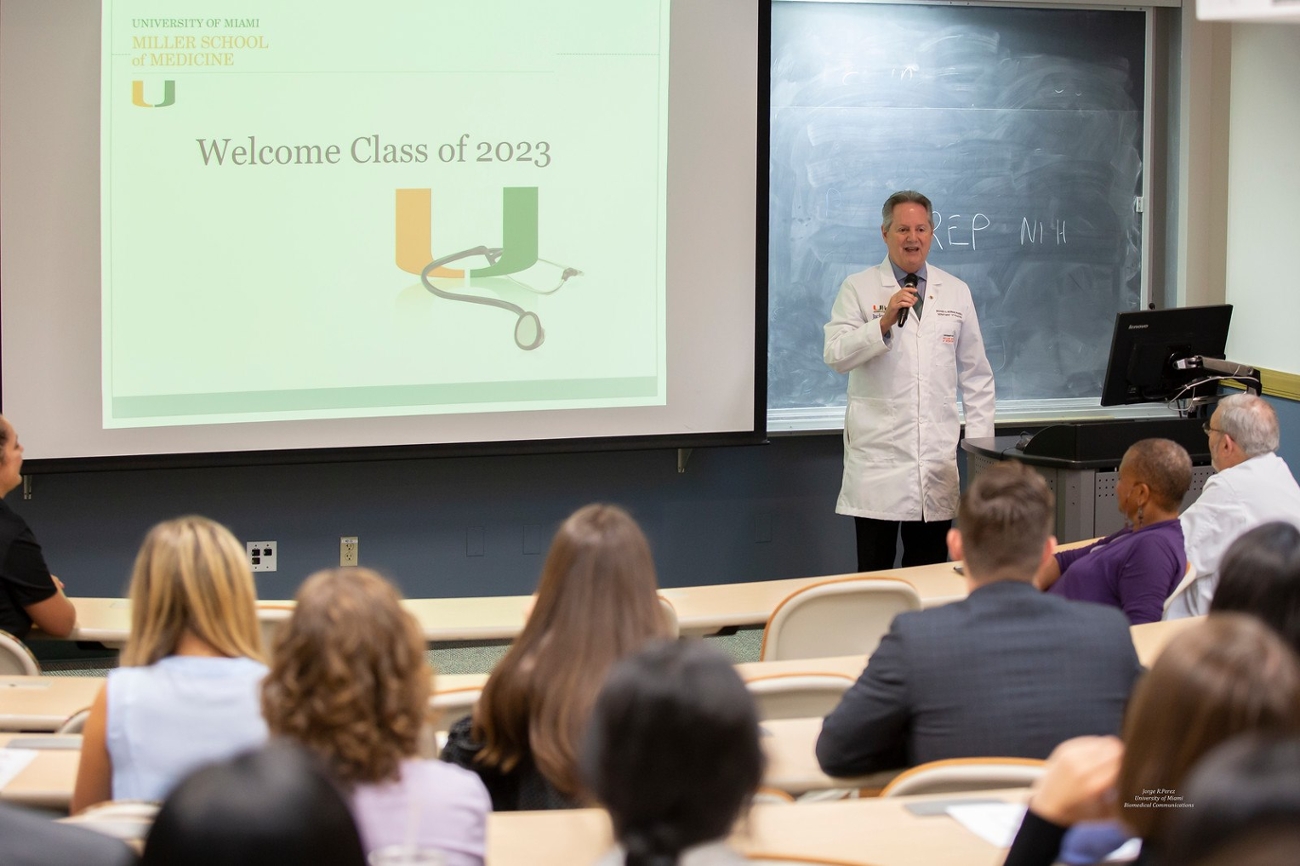 The M.D./M.P.H. Class of 2023 – the University of Miami Miller School of Medicine's ninth and largest class – began their journey at freshman orientation at the Rosenstiel Medical Science Building on June 24, meeting their classmates, faculty and staff.
The orientation began with welcome remarks and introductions from Laurence B. Gardner, M.D., executive dean for education and policy, J. Sunil Rao, Ph.D., interim chair of the Department of Public Health Sciences, Alex J. Mechaber, M.D., senior associate dean for undergraduate medical education, and Leah Colucci, a third-year M.D./M.P.H. candidate, executive president of the Miller School Student Government, and a student trustee on the University's Board of Trustees.
As new students listened intently, faculty talked about the impact their medical education will have on their lives. They also emphasized the importance of asking for help when needed, having a balanced approach to their medical education and their health and wellness, and overcoming adversity throughout their education.
"Medical school itself has been known to be a transformative experience. It is going to transform who you are as individuals and rising physicians. You are all going to have the opportunity to transform medicine as we know it," Dr. Mechaber said.
"A lot of things will get thrown in the way and there will be moments when you will have to deal with uncertainty," he added. "How you manage that will be interesting and very challenging. Adversity is something that we all have to manage as physicians. But it's a journey that we're all going to be taking together."
Richard Weisman, Pharm.D., associate dean for admissions and enrollment, also shared statistics about this class. Forty-five percent of the students are non-Florida residents, 68 percent are women, 59 percent are minorities, and the average age is 24. They have degrees in 15 different areas ranging from anthropology, history and psychology to biochemistry, nursing and public health.
"The different trajectories and experiences that students will bring to the table makes this class very unique," Dr. Rao said.
"I am interested in seeing how I can compare engineering with medicine in terms of public health," said Chase Carto, a first-year MD/MPH candidate from Michigan who studied engineering as an undergraduate student.
There are 32 students who have Bachelor of Science degrees, 19 with a Bachelor of Arts, and three with a Master of Science degrees universities in the United States, as well as in Canada. Birth countries include Canada, Colombia, Dominican Republic, Greece, India, Israel, Korea, Mexico, Taiwan, and the United Kingdom.
"We believe that the diversity of experiences and backgrounds of our students will make their medical school experience richer and help to create impactful physician leaders in population health," added Dr. Roderick King, MD, MPH, who is the director of the MD/MPH program.
The orientation also included sessions on the new M.D./M.P.H. curriculum and information on student services, health and wellness, academic enrichment and tutoring opportunities on campus. Students also reviewed the Code of Honorable and Professional Conduct and participated in a case-based professionalism panel discussion.
In the afternoon session, the Office of Diversity, Equity and Inclusion welcomed the students. There were also sessions reviewing the case studies in policies and student responsibilities, as well as the Physicianship and Professional Advocacy Program. Students were presented with information on security and emergency services, financial assistance, and information technology and computer services.
"Everyone is willing to help as we navigate our way in this new journey," said Maria Lugo-Fagundo, a first-year M.D./M.P.H. candidate. "While it is going to be stressful at times, knowing that faculty, staff and students are there to guide us through makes me comfortable and excited to be a part of the M.D./M.P.H. program."
Written by Amanda Torres
Published on July 23, 2019