Dr. Hermes Florez Named Interim Chair of the Department of Public Health Sciences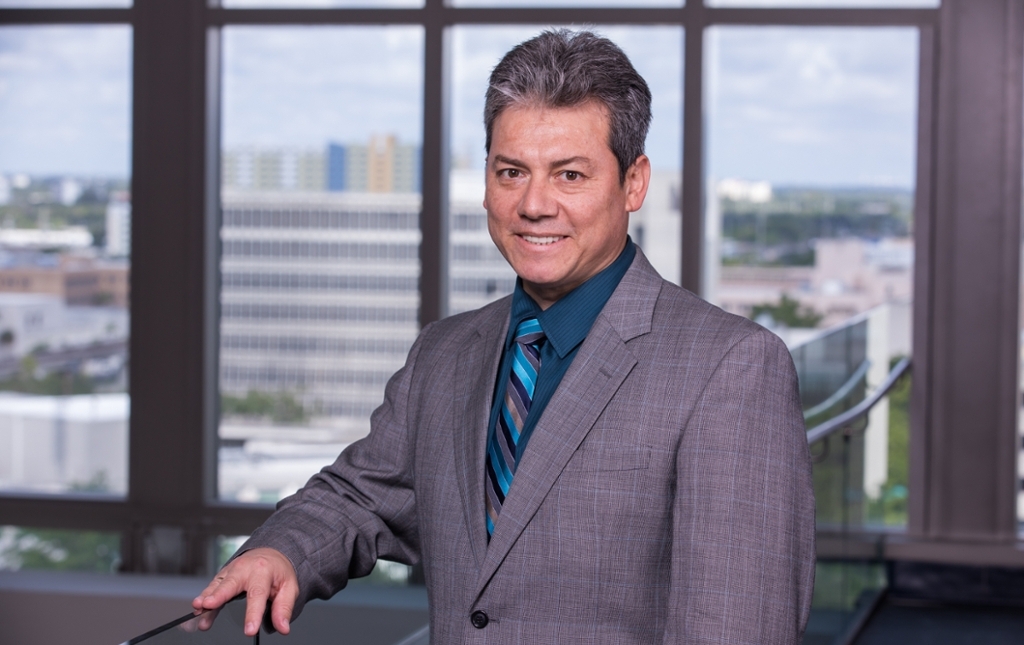 Hermes Florez, M.D., M.P.H., Ph.D., professor and director of the Division of Epidemiology and Population Health, has been named interim chair of the University of Miami Miller School of Medicine's Department of Public Health Sciences. 
"I am appreciative that Dr. Florez has graciously accepted the opportunity to step up into the role of interim chair. It's an especially exciting time for the department and the work we are doing in public health. I fully support Dr. Florez and his strategic vision for the department," said Henri R. Ford, M.D., M.H.A., dean and chief academic officer at the Miller School of Medicine.
 
Dr. Florez is a physician, public health expert and scientist who is trained in internal medicine, endocrinology, and geriatrics, as well as in epidemiology. 
"As we start 2020, we have time to reflect on the many accomplishments that the department has had over the past few years, as well as on the public health challenges that we face in the South Florida community, the United States, and beyond," Dr. Florez said. "We need to be prepared for emerging opportunities, working in collaboration across departments, institutes, centers, and schools."
Dr. Florez graduated summa cum laude from the University of Zulia in Venezuela, where he held a junior faculty appointment before coming to the United States in 1996. As a medical student at the University of Zulia, he learned about opportunities to collaborate with the Miller School through the William J. Harrington Medical Training Program, which empowers promising physicians from across Latin America and the Caribbean. 
 
He first came to the University of Miami in 1995, where he was exposed to many opportunities. He rotated with faculty at UM's Diabetes Research Institute, which is one of the largest and most comprehensive research centers dedicated to curing diabetes.
One of his training rotations was with Ronald B. Goldberg, M.D., professor of medicine, biochemistry and molecular biology in the Division of Endocrinology, Diabetes, and Metabolism at the Miller School and senior faculty member of the Diabetes Research Institute, who asked Dr. Florez to join the Diabetes Prevention Program Research Group.
"It was a wonderful experience since I had the opportunity to firsthand learn from clinical and epidemiological research, as well as more rigorous details of protocol-oriented framework," Dr. Florez said. "I was also exposed and introduced to the concept of epidemiology and biostatistics. While it was part of my training during medical school, this time it had been from the perspective of applied practice."
Dr. Florez also worked with Richard P. Donahue, Ph.D., M.P.H., and Ronald Prineas, M.B.B.S., Ph.D., who were co-principal investigators of the program at the time. Dr. Prineas was also the chair of the Miller School of Medicine's Department of Epidemiology and Public Health, which later became the Department of Public Health Sciences.
"It was rewarding to work with Dr. Goldberg, Dr. Prineas, and Dr. Donahue. Now, after 24 years, I am honored and humbled to be asked to serve in the same capacity as interim chair of the department," Dr. Florez said.
With Dr. Florez's growing interest in epidemiology and biostatistics, Dr. Donahue advised him to take courses in the discipline. Soon after, Dr. Florez began his journey in the Master of Public Health (M.P.H.) program, as well as in the Ph.D. in epidemiology and population health in the department.
"My very first class in the M.P.H. program was actually a public health administration course, which was taught by Dr. Eleni Sfakianaki, who, at that time, was the medical director of the Public Health Department in Miami-Dade County," Dr. Florez said.
Since Dr. Sfakianaki retired, Dr. Florez now teaches the course, where he applies the lessons learned from his position as service chief at the Miami Veteran's Healthcare System.
While earning his M.P.H. and Ph.D. at the Department of Public Health Sciences program, Dr. Florez completed his residency training in internal medicine and clinical fellowship training in endocrinology and geriatric medicine at the University of Miami/Jackson Memorial Hospital and Miami Veteran Affairs.
Dr. Florez then joined the Miller School faculty in 2004, was promoted to associate professor in 2008 and was granted tenure in 2012.
Aside from his current roles, Dr. Florez also serves as the director of the Geriatric Research Education and Clinical Center (GRECC) at the Miami Veterans Affairs Healthcare System and is co-principal investigator of the "Glycemia Reduction Approaches in Diabetes: A Comparative Effectiveness Study." The study, also known as GRADE, is funded by the National Institutes of Health and is a multicenter, parallel-group clinical trial that is designed to compare the major drug classes that are currently used to treat type 2 diabetes.
Previously, Dr. Florez has served as interim chief of the Division of Gerontology and Geriatric Medicine at the Miller School. In his role as director of the Miami GRECC, he has developed and implemented evidence-based strategies for the prevention and management of age-related diseases with research support from the NIH, U.S. Departments of Veterans Affairs and Health and Human Services, the Pan American Health Organization and International Diabetes Federation.
He has also served as principal investigator of the Million Veterans Program in South Florida, which has enrolled almost 19,000 veterans in the Miami Veteran's Affairs genomics program, which was designed to improve personalized care based on genetic profiles.
 
Dr. Florez looks forward to his role as interim chair of the Department of Public Health Sciences.
"With strong support from our leaders, we will seek to fulfill a vision of a major transformational leadership role for our department, aligned with UM strategic priorities and major stakeholders," said Dr. Florez. "I renew my commitment to this endeavor and encourage broad participation of department faculty, staff, and students in this process."
Written by Amanda Torres
Published on January 21, 2020