As the graduates were arriving, the room filled with optimism and anticipation for what the future may hold. As students eagerly await their graduation, it was finally time to close this chapter and open the next one. While the Miami sun was setting and the golden shine was glistening over the water, graduates took some time to mingle with fellow students, faculty, and staff before sitting down to enjoy dinner and an award ceremony.
DPHS faculty and staff came together to celebrate graduates from both the 2021 and 2022 graduating classes. Graduates were presented with encouraging words from Dr. David Lee, Department Chair, and Dr. Viviana Horigian, MHA, Director of Public Health Education. Both Drs. Lee and Horigian, urged the graduates to stay connected, setting as an example the countless DPHS professors that were once alumni. They also encouraged them to share their success with the department, seeing the endless opportunities it might bring.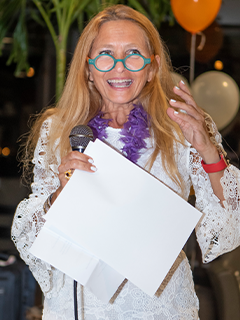 Viviana Horigian, MD,
MHA
Moreover, Dr. Horigian made remarks about the connections made throughout the entire journey, despite learning remotely and the challenges it brought. "This cohort is mainly represented by individuals that joined us during Spring 2020, or Fall 2020, during the height of the COVID 19 pandemic, at a time where we had no treatment of vaccines available" said Dr. Horigian.
 "Your graduation today is a true testament of your resilience and relentless commitment to your education despite all odds, and exemplify the adaptability and flexibility that is called for in public health professionals" she added.
Before ending the night with some dancing, Dr. Horigian recited "It is forbidden," a poem by Alfredo Cuervo Barrero, to remind the graduates to stay true to themselves, fight for what they believe, and to remember that each and every one of them is on this Earth for a reason.1
"It is forbidden to not smile at your problems,
to not fight for what you want,
Abandoning everything to fear,
not converting your dreams into reality…"
Organizations that presented award winners:
Delta Omega 2022 Awards:
Distinguished Mentorship Award - Denise C. Vidot, Ph.D. 
Excellence in Teaching Award - Sara M St. George, Ph.D.
Outstanding Dedication - Mariano Kanamori, Ph.D. 
Public Health Student Association (PHSA) 2022 Awards: 
DPHS Faculty of the Year - Tatiana Perrino, Psy.D.
Teaching Assistant of the Year - Niara Williams
DPHS Student of the Year - Oluwajoba Odediran
PHSA Officer of the Year - Acklynn Byamugisha 
PHSA Officer of the Year - Oluwajoba Odediran
DPHS Staff Service Award - Rosa E. Verdeja M.Ed.
1Alfredo Cuervo Barrero holds author's rights to this poem, although Pablo Neruda has been accredited other versions of it. 
Written by Deycha Torres Hernández
Published on May 24, 2022