Alex Stewart presented "Heavy Metal Exposure Assessment (HEAT) using Toenail Clippings in Firefighters: Evidence from the Firefighter Cancer Initiative" during the American Public Health Association's (APHA) Annual Meeting & Expo and 150th-anniversary celebration. The annual meeting was held in Boston, MA, from November 6 to 9, 2022.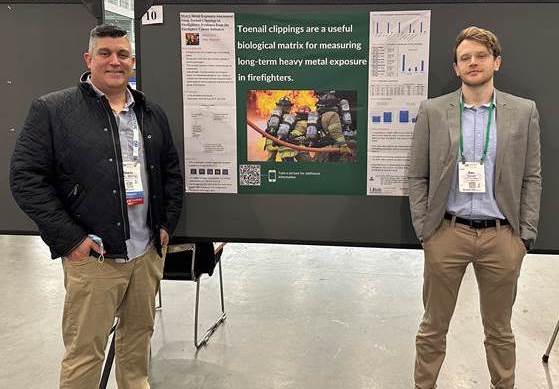 Firefighters are exposed to a wide range of known or suspected carcinogens while on the job, thus, heavy metal exposure is a particular source of concern. The HEAT initiative examines the use of toenails as a biomarker of long-term heavy metal exposure in firefighters, as well as the presence and quantity of heavy metals found in firefighters. "The toenails we collected were analyzed for the concentration of 5 heavy metals through inductively coupled plasma mass spectrometry (ICP-MS). These metals were Chromium, Lead, Cobalt, Arsenic, and Cadmium," said Alex.
Firefighters who participated also provided answers to a questionnaire, which assessed for demographics and occupational characteristics. "In this paper, we used univariate linear regression and logistic regression models (which are ways of using statistics to examine the relationship between variables) to determine if the job roles firefighters performed at fire scenes, such as a driver, an interior firefighter, management, or multiple roles, had an effect on the levels of heavy metals we found in their nail samples," explained Alex.
Researchers present the characterization of the distribution of heavy metals and their association with occupational characteristics in a group of firefighters in a new and effective way. Collecting toenails had high approval rates from participating firefighters. This new method is less invasive and easier to collect and store compared to other collection techniques such as blood or urine collections.
The data obtained suggests that when determining occupational exposure in firefighters, a significant factor to consider in future research is how active and involved, as well as how many roles they tend to perform at each fire scene. "We were able to successfully quantify the amount of heavy metals present in each nail," said Alex. "We found that firefighters who reported performing multiple roles at fire scenes were more than 2x more likely to have excessive exposure to Chromium when compared to their peers who specialized in singular roles," he concluded.
Other UM collaborators include:
Alberto Caban-Martinez, D.O., Ph.D., M.P.H.

Kevin Griffin, M.P.H.

Paola Louzado-Feliciano, M.S.

Katerina M. Santiago, M.P.H.

Natasha Schaeffer-Solle, R.N., Ph.D.

Johanna Garibaldi

Bapurao Surnar

Shanta Dhar

Erin Kobetz, Ph.D., M.P.H.
Written by Deycha Torres Hernández
Published on November 22, 2022