Dr. Roderick King Named Senior Associate Dean for Diversity, Inclusion and Community Engagement for the Miller School of Medicine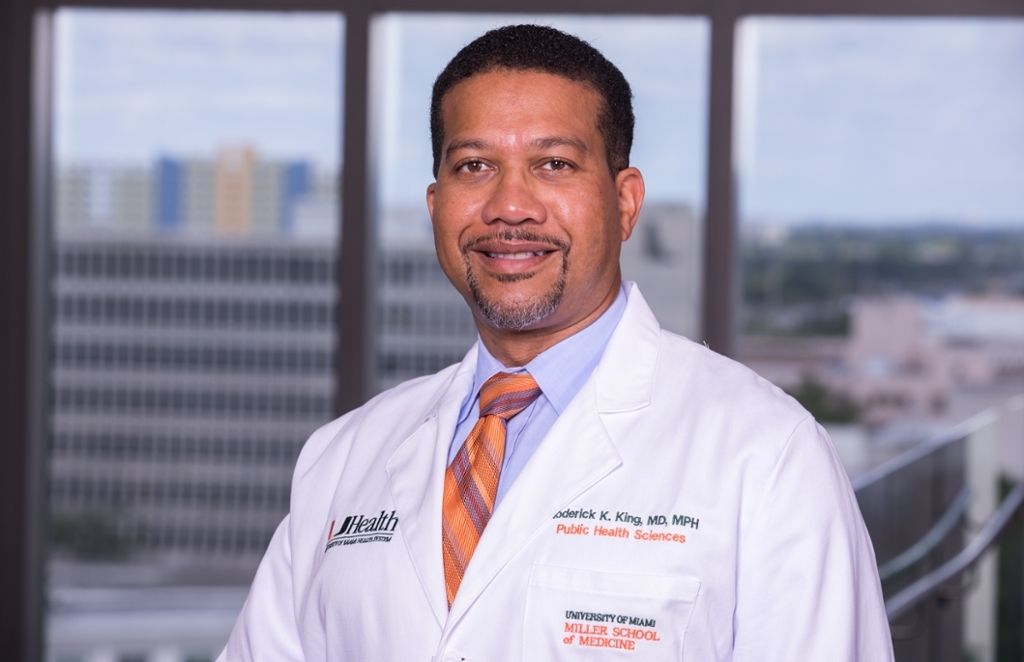 Roderick K. King, M.D., M.P.H., assistant dean of public health education and director of the M.D./M.P.H. program, was appointed as senior associate dean for diversity, inclusion and community engagement, where he will introduce innovative strategic initiatives to advance the diversity and inclusion programs and goals at the Miller School of Medicine.
In the announcement sent to students, faculty, and staff, Henri R. Ford, M.D., M.H.A., dean and chief academic officer of the Miller School of Medicine, noted, "His [Dr. King's] new role is central to our commitment to create an optimal environment for all learners at the Miller School and to recruit and support a talented and diverse faculty, student body, and workforce."
With the help of the Office of Diversity, Inclusion and Community Engagement, Dr. King will build strategic community partnerships, which will help create innovative, evidence-based strategies that will prepare the next generation of clinicians and researchers to improve the health of individuals and communities. This will also help to continue to empower students to transform lives and inspire them to serve global communities.
"Having the opportunity to guide this work and increase the pipeline of students, faculty, and doctors is exciting and I am looking forward to it. We are in the process of doing some strategic planning to figure out the main areas that we want to start working in. From my standpoint, I think the main areas are our pipeline, recruitment and retention efforts. In regard to the pipeline, for example, it is important to target students as early as middle or high school and talk to them about medical and graduate school."
According to a news release by the Miller School of Medicine, the institution has had a strong commitment to addressing health disparities and health inequities, which has placed the Miller School in the top ranks when it comes to diversity in its student body. In the most recent inaugurated medical class, 25 percent of new students are Hispanic, and 11 percent are African American. 
"It is important to continue to create a space of inclusion where people from different races/ethnicities, genders, cultures, and languages, to name a few, feel welcomed," Dr. King said.
Dr. King, who also serves as an associate professor in the Department of Public Health Sciences and is CEO of the Florida Institute for Health Innovation, is an experienced physician, public health, and educational leader. Prior to joining the Miller School of Medicine, he spent 13 years at Harvard Medical School's Office for Diversity, Inclusion and Community Partnership, as well as in the Department of Global Health and Social Medicine and the Harvard T.H. Chan School of Public Health. He also founded the Disparities Solutions Center and the Disparities Leadership Program at the Massachusetts General Hospital.
Dr. King is a graduate from Johns Hopkins University, completed his medical education at Weill Cornell Medicine, and did his training in pediatrics at the Children's National Medical Center/George Washington University.
Written by Amanda Torres 
Published on November 5, 2019