Dr. Taghrid Asfar Awarded for Best Poster at the 19th Annual Society for Research on Nicotine and Tobacco Conference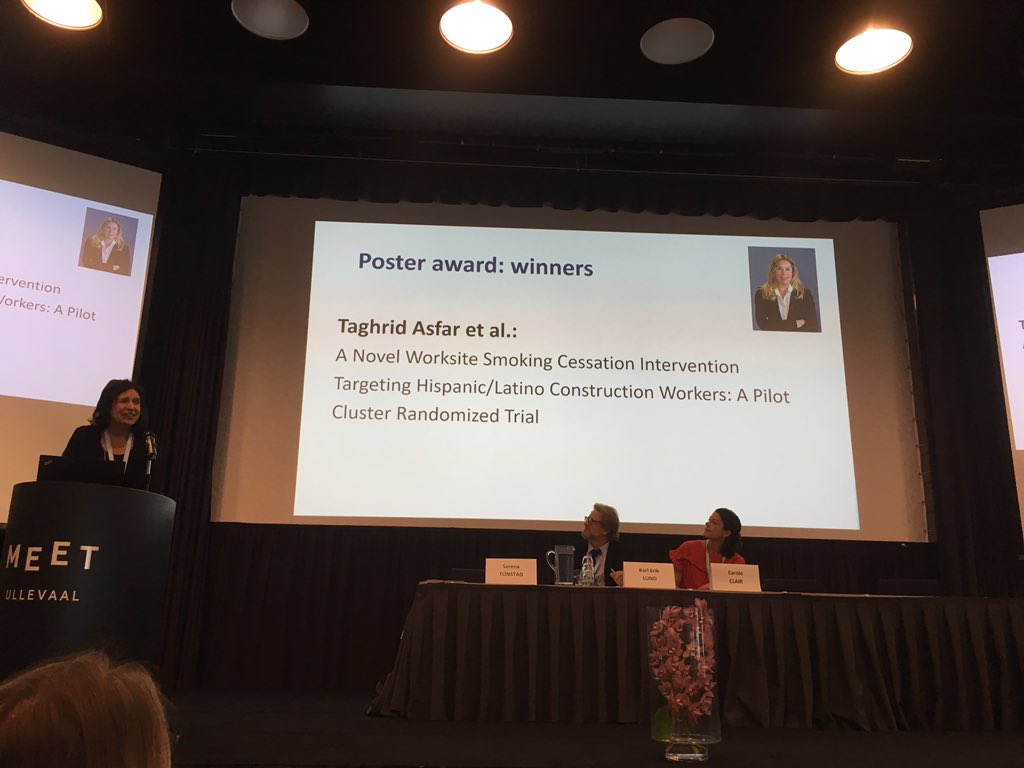 The Society for Research on Nicotine and Tobacco (SRNT) Europe Conference held the 19th annual meeting in Oslo, Norway this year. 

Taghrid Asfar, M.D., MSPH, assistant professor at the Miller School's Department of Public Health Sciences, presented findings on five research projects at the annual meeting, including one that was distinguished as one of the best posters.

Dr. Asfar's award-winning presentation reported on a culturally tailored worksite-based smoking cessation intervention targeting Hispanic/Latino construction workers in a pilot cluster randomized clinical trial.

The study found that the culturally tailored intervention was feasible, acceptable and effective in improving smoking abstinence among these minority workers. Results from the study baseline assessment were published in Health Education & Behavior, indicating that the main barriers to cessation among these minority workers were their limited access to healthcare, low level of acculturation, and high work demand. Tailoring the service to workers' job circumstances and language was, therefore, essential to support their cessation efforts.

"The study demonstrated the critical role that collaborative partnerships can play in improving the public's health. The involvement of the companies' leadership and the site safety managers was essential to reach workers and facilitate the study administration at the worksite," Dr. Asfar said, who was the lead author on the study.

Hispanic/Latino construction workers constitute a large and historically underserved group in terms of smoking cessation services in the United States. The number of Hispanic/Latino workers employed in the U.S. construction sector has tripled over a 10-year period to reach 2.8 million in 2015, representing nearly a third of the construction workforce.

"Current cigarette smoking among Hispanic/Latino construction workers is at 31 percent, which is double that of Hispanics in the general population, who are at 16.1 percent. Compared to other occupational groups, construction workers are less likely to receive preventive services and be advised to stop smoking," Dr. Asfar said.

In addition, these workers are exposed to workplace hazard toxins, such as carbon monoxide, air pollutants, and fibers that may interact with smoking to increase their risk for lung cancer and chronic lung disease. Dr. Asfar, along with her research team set out to test the feasibility and effectiveness of the intervention that is tailored to this population.

"In the next step, we are planning to scale up the developed intervention by training construction safety managers to deliver it and test its effectiveness and cost-effectiveness in a full-scale study, with the ultimate goal of integrating sustainable smoking cessation services in the construction sector," Dr. Asfar said.

The study was co-authored by David J. Lee, Ph.D., professor and director of graduate programs, and Alberto Caban-Martinez, D.O., Ph.D., M.P.H., assistant professor of public health sciences, both from the Miller School, as well as by other researchers at the Department of Public Health Sciences. They received funding by the National Cancer Institute at the Nationals Institutes of Health to pursue the study, as well as from the Sylvester Comprehensive Cancer Center.

At the SRNT-E annual meeting, Dr. Asfar presented on four other studies including, 1: national estimates of cigarette smoking prevalence, time-trend and correlates among people living with HIV in the U.S., 2: racial/ethnic differences in quitting smoking among people with depression in the U.S., 3: assessing the fidelity of delivery of a smoking cessation intervention designed to address racial/ethnic cessation disparities in the U.S., and 4: an international poster reporting on results from focus groups aimed at developing waterpipe-specific health warning labels in Tunisia.
Written by Amanda Torres
Published on October 2, 2019