The Florida Education Fund Awards Dr. Guillermo "Willy" Prado with Presidential Award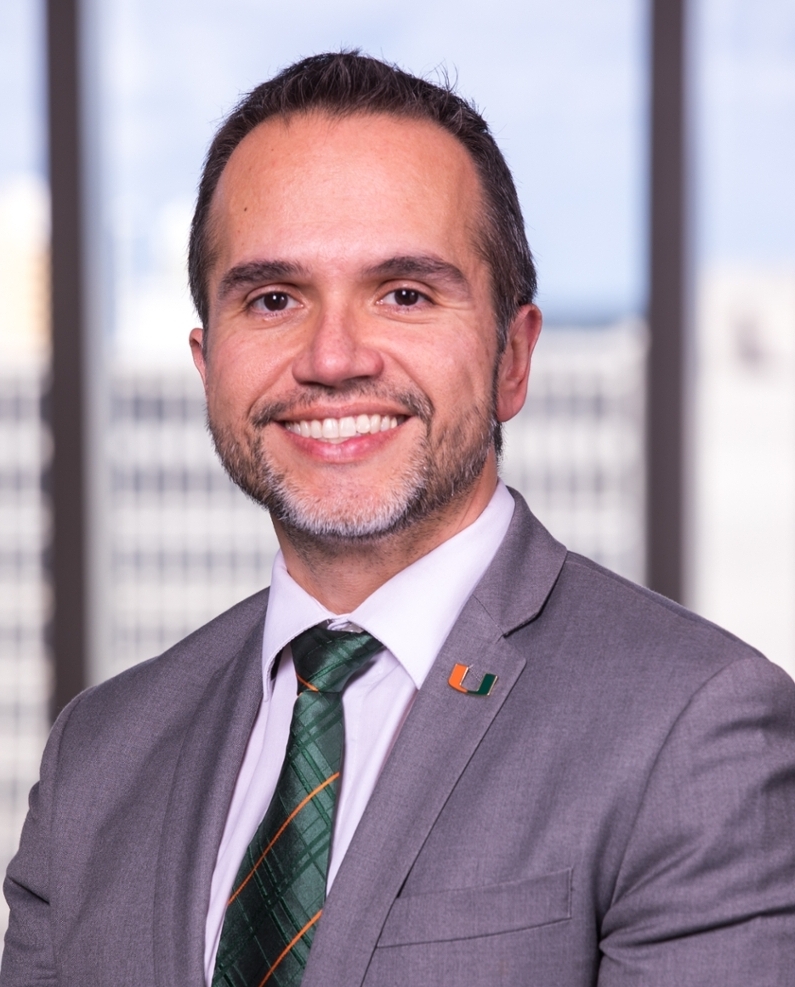 The Florida Education Fund (FEF), an organization that provides an avenue to ensure that educational advancement is possible for minorities, honored Guillermo "Willy" Prado, Ph.D., dean of the University of Miami Graduate School and professor of public health at the Miller School of Medicine, with a presidential award at their annual conference this year.
"I was incredibly surprised. It is just a great, great organization and they do so much for minority students. Part of what I've done in the past few years has been to provide different types of workshops around career development. I've given workshops on helping students think about NIH grants to prepare them to apply for those grants," Dr. Prado said.
The president's award was created to provide an honorarium to individuals who make outstanding contributions to the McKnight Fellowship Program. The program, which was established in 1984, is designed to address the underrepresentation of African American and Hispanic faculty at colleges and universities in the state of Florida by increasing the pool of citizens qualified with Ph.D. degrees to teach at college and university levels. It, therefore, grants 50 annual awards for those who intend to seek Ph.D. degrees at Florida universities.
Lawrence Morehouse, president and CEO of FEF, said "I've known Dr. Prado for three and a half years and he has been substantially supportive of not only the McKnight fellows that are matriculated at the University of Miami but of fellows from other partner institutions. He is a fine scholar in his own right. A great researcher. He's not only a bright genius, but he's also a humanitarian."
Since joining the program in 2017, Dr. Prado has been involved in the selection and recruitment process of fellows.
"He sits on the selection and review committee, which is comprised of deans of graduate schools from all over the state. They will convene here in Tampa and then select the students that we give awards to," said Dr. Morehouse. "And what that entails is doing a careful and thorough review of their applications, which consists of four to five hundred files. So, Dr. Prado has played a major role in that process." 
Dr. Prado has also developed and conducted workshops for fellows all around the state to train them on how to develop competitive proposals to get their project funded.
"He has extrapolated some best practices from his experiences and expertise and is now sharing it with the graduate students. And we are very, very pleased that he's been able to do that for us," added Dr. Morehouse. "According to the evaluation that we've gotten from students who have participated in the workshops, they have found them absolutely outstanding and very, very helpful."  
This year, FEF held its 35th annual meeting for McKnight Fellows and the 33rd annual graduate school conference in one event titled "On the Cutting Edge: Conducting Research That Serves the Global Community." The event took place on Oct. 11-13, 2019 at the Tampa Airport Marriot Hotel this year, where 43 honorees from the McKnight Doctoral Fellowship program were also recognized, five of which were from several doctoral programs at the University of Miami, as well as from the Miller School of Medicine.
Rhoda Moise, a soon-to-be graduate of the Ph.D. in Prevention Science and Community Health program at the Department of Public Health Sciences, was among one of five fellows. Moise recently defended her dissertation and will graduate in December 2019.
Other fellows and graduates who were honored were Virginia Alfonso-Fundora, M.Ed., a Ph.D. in Counseling Psychology graduate from the University of Miami's (UM) School of Education and Human Development; Yvette Figueroa, Ph.D., a graduate from the Ph.D. in Kinesiology and Exercise Science at the UM'S School of Education and Human Development; Ariana Magdaleno-Yntema, Ph.D., a graduate from the Ph.D. in Literary, Cultural, and Linguistic Studies at UM's College of Arts and Sciences Department of Modern Language and Literatures, and; Edwing Medina, Ph.D, a graduate from the Ph.D. in Science, Technology, and Mathematics program in UM'S School of Education and Human Development.
Written by Amanda Torres
Published on November 5, 2019