Resilient Department of Public Health Sciences Administration Staff Reflect on One-Year Mark of Working Remotely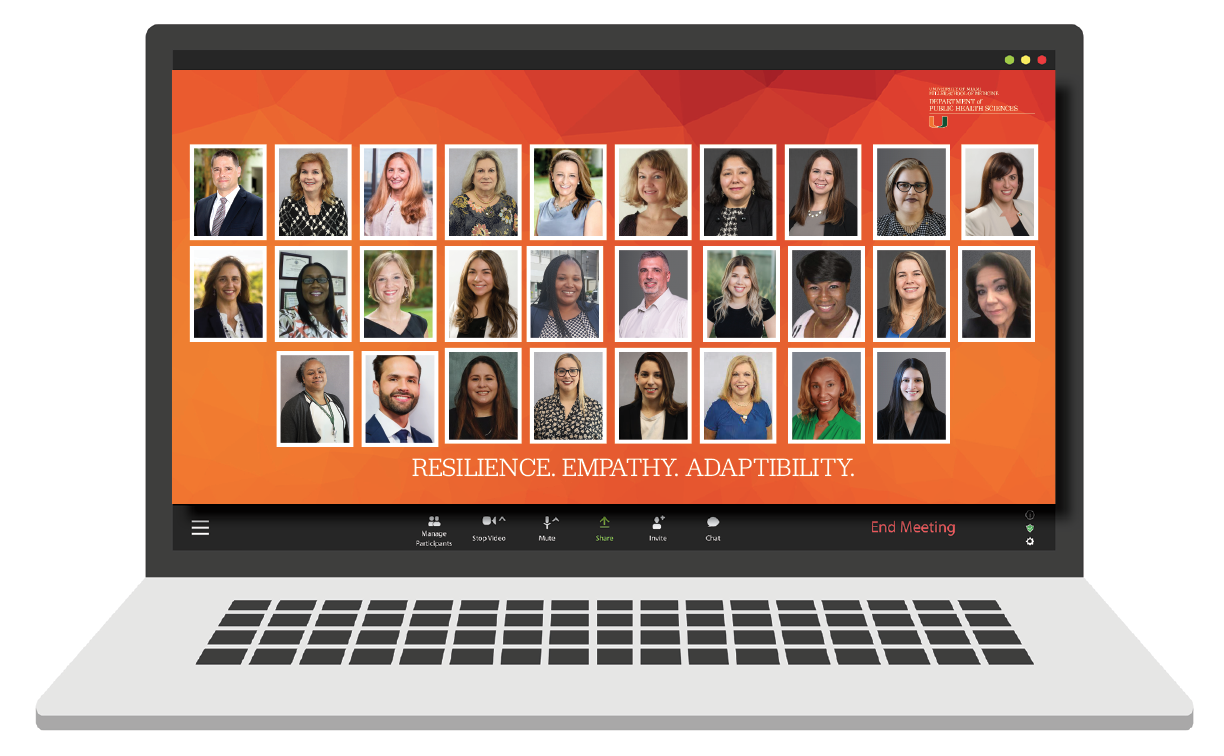 To mitigate the spread of COVID-19, various schools and colleges throughout the University of Miami transitioned to a work-from-home approach over a year ago, including the Miller School of Medicine. On the one-year anniversary of working from home, the administrative staff of the Miller School's Department of Public Health Sciences met virtually to reflect on the past year.
"Under difficult and uncertain circumstances, members of our department adapted to working from home despite all of the challenges encountered and without major declines in output," said David J. Lee, interim chair and professor in the Department of Public Health Sciences. "Their selfless efforts enabled us to continue to meet the educational, research, and service mission of the department."
"Our administrative staff is the backbone of our department and their well-being is very important to us as their leaders," added Margie Jimenez, M.A., C.R.A., the department's assistant chair. "We have worked together through this past year remotely and each of us has dealt with many challenges, difficulties, fears, loneliness, anxieties, and the loss of family and friends. Many uncertainties have indeed filled our daily lives."
"My message to each staff has been constant," added Mrs. Jimenez. "We are in this together and anything we can do to support each and everyone through this, we will do. We are all different and we each have our own challenges with our families, work, school, and our personal lives. I understand them and I am empathetic to their worries and challenges during these very difficult times."
During the virtual event held on March 16, administrative staff received personalized mugs in the mail and participated in ice-breaker questions that allowed them to reconnect and learn more about each other. They were also asked to share words that most resonated with them in the past year. A few of them included resilience, empathy, adaptability, and growth.
Triumphs and Hardships Alike
When the transition to work from home began on March 16, 2020, there were many changes to standard operating procedures. Still, the administrative staff went above and beyond in maintaining the department's administrative mission and continued to provide excellent administrative, fiscal, and compliance support, and policy guidance to faculty, research staff, and students, as well as towards education and local and international collaborations.
"This past year we learned that we did not have to sacrifice efficiency when we transitioned to working remotely," said Jessica Carbajal, M.B.A., director of finance in the Department of Public Health Sciences. "We were fortunate enough to be able to supplement everyone with the needed equipment, and that the University was equipped with the infrastructure for us to do our jobs seamlessly from home. Our administrative staff continued to deliver the necessary services to our department with the utmost professionalism." 
"Ultimately, the greatest lesson that this pandemic has taught us is that we are all in this together," added Josie Lopez, the department's assistant director of business operations. "Things are definitely different, but we continue to move forward despite many professional and personal challenges, and that says a lot of our administration team."
Graduate students in the department also had to make sudden changes and while the journey took time to get used to, they expressed gratitude for faculty and staff for the seamless transition to remote learning, which also began in March 2020.
"The ability of our faculty and our student body to swiftly adapt to remote learning was inspiring," said Rosa E. Verdeja, M.Ed., director of academic affairs in the Department of Public Health Sciences. "This was a true collaboration of staff, faculty, and students and we are lucky to count on an exceptional team of student teaching assistants that helped in this transition to online learning. We found ourselves in unchartered waters and counted on each other's skills and talents and more so, on each other's support, patience, and understanding to get this vessel moving. And we are sailing with optimism."
"Although this year has challenged us in ways we never imagined, it has also allowed us to grow and step out of our comfort zones," added Andria L. Williams, M.B.A., the department's director of admissions. "With the support of the department, we have developed creative and innovative ways to continue meeting the needs of our students."
Graduate programs, including the Master of Public Health and Master of Science in Public Health, saw a remarkable 91 percent enrollment increase from Fall 2019 to Fall 2020, as well as an increase in applications—highlighting the diligence of the admissions and recruitments team in what continues to be unprecedented times.
"We are in this together as we honor the immense toll this has had on our lives, the incredible resilience of the human spirit, and the unprecedented scientific advancements worldwide to manage this public health challenge and the development and implementation of vaccines," said Begoña Rovira, M.B.A., M.A., executive director of master's programs in public health.
"I am very grateful for each of our staff members for the work they have accomplished despite their challenges and the resiliency each has demonstrated during these unprecedented times," said Mrs. Jimenez. "We are looking forward to hearing from each individual as we prepare together for the future and our new normal."
Written by Amanda Torres
Published on April 7, 2021