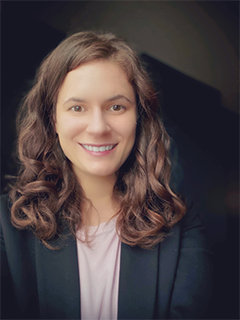 Emily Cherenack, Ph.D.
"I pursued a career in clinical health psychology because I was fascinated by studies showing that improving mental health can positively impact the immune system. I'm also passionate about the prevention and treatment of HIV and other diseases that disproportionately impact marginalized individuals. An important element of our immune system is the microbiome, which includes all of the microbes that live inside our bodies. The rectal and vaginal microbiomes are involved in the body's ability to prevention HIV infection. Growing research shows mental health and health behaviors can impact our microbiomes. An unanswered question is whether interventions to improve mental health could positively change the microbiome and other components of the immune system to be more resilient against HIV infection. This training grant is the first step in allowing me to launch a series of studies that helps answer this question," Dr. Cherenack said.
The goal of the F32 is to gain advanced training in psychoneuroimmunology (the study of mental health and the immune system) and bioinformatics to investigate how biological and psychological risk factors relate to rectal/vaginal microbiome composition and mucosal inflammation relevant to HIV acquisition among women and sexual minority men. The project is titled "Syndemics, the microbiome, and mucosal inflammation involved in HIV acquisition" (1F32AI162229).
Disruption to the microbiome and mucosal inflammation are related to altered functioning of the human immune system. Both health conditions have been associated with decreased mucosal immunological capabilities, which heightens the risk for HIV infection.
Current research has established a relationship between poor mental health, substance use, stress, and sexual behaviors with changes in the microbiome and mucosal inflammation. Further scientific research is needed to examine the association between the co-occurrence of these factors – also known as a Syndemic – and their relationship with an increased risk of HIV acquisition among high-priority populations.
The most likely route of HIV infection is through the rectal or cervicovaginal mucosa. Therefore, the project will consist of a sub-study of an ongoing R01 (R01AI138718) that will evaluate the influence of psychosocial Syndemic factors on vaginal dysbiosis. The project will also analyze existing data from a study of sexual minority men in South Florida to determine the relationship between Syndemic conditions and the rectal microbiome involved in HIV prevention.
"There are many unanswered questions about how to improve the microbiome, which is a complex ecosystem we are just beginning to understand. Interdisciplinary research that bridges the fields of mental health and immunology is essential for answering these questions and translating findings to public health. The University of Miami is a leader in the field of psychoneuroimmunology and is the ideal setting for this interdisciplinary work. Resources like the Center for HIV and Research in Mental Health (CHARM) have been instrumental in providing extra training, support, and mentorship. I am especially grateful for the opportunity to work with an incredible team of mentors committed to reducing health disparities," Dr. Cherenack added.
Dr. Cherenack will work with her primary sponsor, Adam Carrico, Ph.D., professor of public health sciences and psychology at the University of Miami Miller School of Medicine and Director of the Prevention Science and Community Health Division in the Department of Public Health Sciences, as well as co-sponsors Dr. Maria Alcaide, associate professor of clinical medicine at the University of Miami Miller School of Medicine; Dr. Steven Safren, professor at the University of Miami Department of Psychology and Director of the UM Center for HIV and Research in Mental Health; and Dr. Nichole Klatt, professor and director of the Division of Surgical Outcomes and Precision Medicine Research in the Department of Surgery at the University of Minnesota.
Findings of the research project will advance scientific understanding of HIV infection and the influence of Syndemic social factors on the biological mechanisms related to mucosal immune function. Results will inform the relevance of dysbiotic microbiome as a common biological pathway through which Syndemic conditions decrease immune response. Moreover, the project will also help develop effective public health interventions to improve both mental health and clinical outcomes among people living with HIV, with a focus on addressing health disparities in marginalized communities.
Written by Veronica Bustabad
Published on October 26, 2021