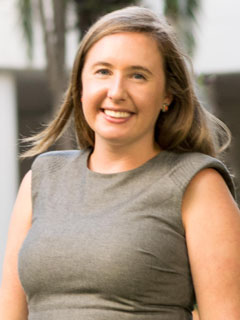 Audrey Harkness, Ph.D.
The project is titled, "Developing and Pilot Testing Peer Ambassador Stories for Increasing HIV-Prevention and Behavioral Health Treatment Uptake among Latino MSM." The total amount of the award is $313,893.
HIV Statistics
Miami-Dade County has one of the highest rates of new HIV diagnoses in the nation, with most new diagnoses occurring among Latino men who have sex with men. Behavioral health problems, such as mental health, substance use, and sexual risk behaviors, contribute to Miami being an epicenter for HIV.
Additionally, HIV prevention services and behavioral health treatments do not sufficiently reach Latino MSM due to insufficient resources of these essential services among the population. Tailored implementation strategies are needed to address the disproportionate burden of HIV among Latino MSM and ensure the distribution of pre-exposure prophylaxis (PrEP), HIV testing, and behavioral health services, said Dr. Harkness.
"Several of our earlier studies have shown just how many barriers there are to Latino MSM getting these kinds of services, and our goal is to make it easier so that health equity is more within reach," said Dr. Harkness.
Goals of the New Grant
The new project is part of an existing initiative called Dime Más, which is aimed at developing a culturally-tailored strategy to increase the reach of PrEP, HIV testing, and behavioral health treatment to Latino MSM in collaboration with local community partners. Dime Más is anticipated to involve a variety of strategies to increase the reach of these services and address the barriers Latino MSM have talked about in their prior studies. 
The impetus for this new supplement was that many participants in the preliminary research to develop Dime Más talked about how influential peers can be in impeding or promoting uptake of services. Therefore, the new K23 supplement will add a robust "peer ambassador" component to the original Dime Más strategy, and also test the peer ambassador stories as its own independent strategy to increase uptake. The peer ambassador stories will consist of the personal experiences of Latino MSM with PrEP and behavioral health treatments and their positive influence on health outcomes. Moreover, the project will help identify the priorities of Latino MSM and guide the overall development of the peer ambassador stories.
"This new supplement is allowing us to respond to the feedback we are hearing from Latino MSM from our earlier work, who said that they really like the idea of having peers advocate for and normalize using these kinds of services. It will also allow us to test this peer story component on its own, which might be a more scalable solution for lower resource contexts," said Dr. Harkness.
The peer ambassador stories will be shared via a digital platform that will ensure easy access and dissemination among the Latino MSM population. Users will have the opportunity to interface by watching the peer stories and potentially chatting with each other via the platform. Interviews with Latino MSM will also be used to refine the peer ambassador stories and develop the final version for the pilot test.
Overall, the new supplement will evaluate the impact of the peer stories on health disparities by examining PrEP, HIV testing and behavioral health uptake among Latino MSM who receive these stories. The supplement will also examine implementation outcomes, including appropriateness, acceptability, feasibility and cost, through exit interviews and surveys with participants and stakeholders.
Results of the new supplement will provide insight on the relevance of the peer ambassador stories as an implementation strategy to increase the reach of HIV-prevention and behavioral health services to Latino MSM. Findings will also support a subsequent grant that will advance scientific knowledge on effective implementation strategies for addressing Latino MSM health disparities.
Written by Veronica Bustabad
Published on November 16, 2021